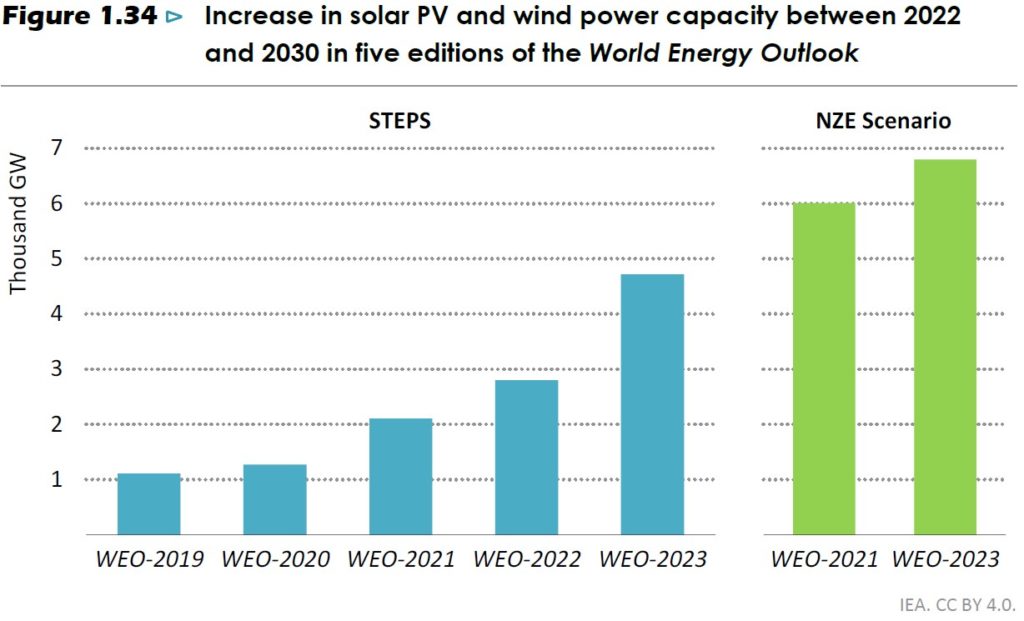 The International Energy Agency expects solar PV additions to be over 500GW in 2023. Chart: IEA.
Renewables are set to contribute 80% of new power capacity to 2030 in the stated policies scenario (STEPS), with solar PV alone accounting for more than half of this, according to the International Energy Agency (IEA).
In its flagship World Energy Outlook report, the IEA expects solar manufacturing capacity to exceed 1.2TW of module nameplate capacity per year, by the end of the decade, however in the STEPS only 500GW of solar capacity will be deployed globally in 2030, less than half of the 1.2TW module nameplate capacity available for deployment.
The STEPS provides a more conservative benchmark, representing a path based on the energy and climate measures governments have put in place to date, as well as policies that are under development.
This year alone, the EIA expects renewables generation capacity additions to be over 500GW globally, with US$1 billion per day spent on solar deployment.
Measures such as expanding and strengthening the grids and more storage capacity would allow for greater integration of solar PV capacity in the electricity systems.
Manufacturing capacity to reach 1.2TW in 2030
Most of the manufacturing capacity would remain highly concentrated, with China's expansion plans far outstripping other countries. The country is already the largest producer by far with 80% of the world's manufacturing capacity.
Using 70% of the 1.2TW of solar module nameplate capacity per year expected by the end of the decade would bring deployment of solar PV to the levels projected in the Net Zero Emissions (NZE) scenario – which limits global warming to 1.5°C – further decelerating the use of fossil fuels.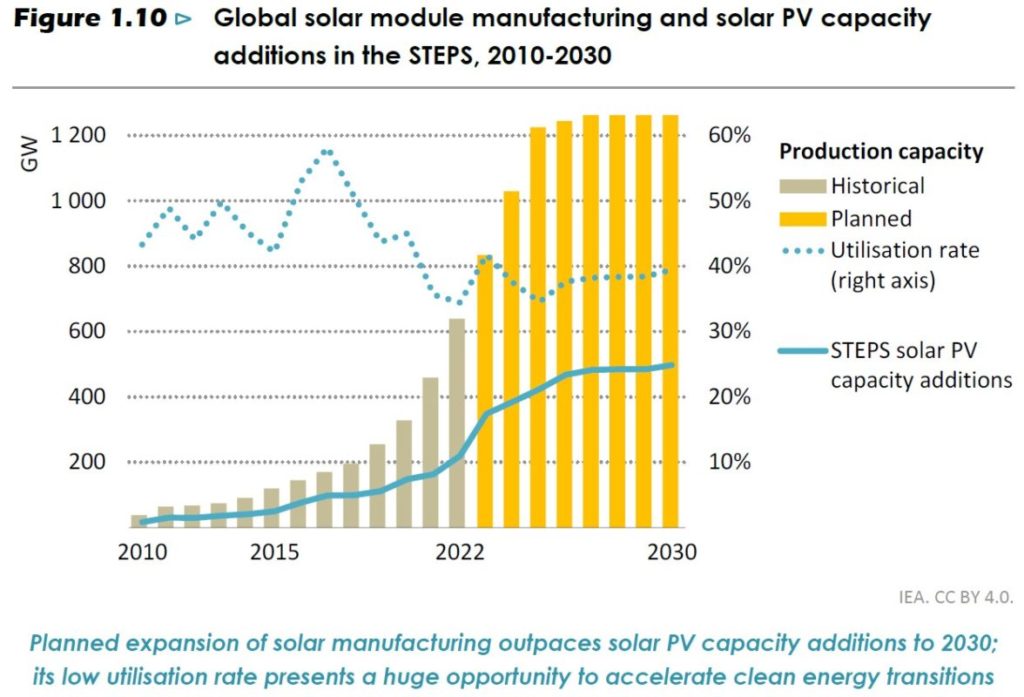 Chart: IEA.
According to the STEPS projections, adding 800GW of new solar PV capacity per year by 2030 would reduce China's use of coal-fired generation by 20% by 2030, while more than 70GW of additional solar PV would be deployed on average each year to 2030 across Latin America, Africa, Southeast Asia and the Middle East.
"Solar PV alone cannot get the world on track to meet its climate goals, but – more than any other clean technology – it can light up the way," according to the report.
Solar PV and offshore wind additions to 2030 in China are treble the number they were in the World Energy Outlook 2021. The Asian country is already leading in clean energy growth, with nearly half of solar PV and wind additions globally in 2022.
However, emerging and developing economies must join China in increasing the pace of new renewable projects, with investments in energy transitions to rise fivefold by 2030 to meet the NZE scenario.
The growth in energy demand in most emerging and developing economies remains very strong, thus reaching a clean electrification is key to the energy and climate targets of these countries. For instance, in Indonesia, the share of renewables in power generation will double by 2030 to more than 35%, while in sub-Saharan Africa, meeting diverse national energy and climate targets means that 85% of new power plants by 2030 are based on renewables.
"Clean energy projects are facing headwinds in some markets from cost inflation, supply chain bottlenecks and higher borrowing costs. But clean energy is the most dynamic aspect of global energy investment. How fast it grows in the coming decades in response to policy and market stimuli is key to explain the differences in trajectories and outcomes across our three main scenarios," read the report.
"Investment in clean energy has risen by 40% since 2020. The push to bring down emissions is a key reason, but not the only one. The economic case for mature clean energy technologies is strong. Energy security is also an important factor, particularly in fuel-importing countries, as are industrial strategies and the desire to create clean energy jobs."